Conservation Reserve Program (CRP)
What is the Conservation Reserve Program?
The Conservation Reserve Program is a federally funded USDA program administered through NRCS and its affiliates. In order to be eligible for CRP, eligible land must have a recent history of row cropping (including alfalfa in conjunction with corn or soybeans). The contract lengths for this program vary from 10 to 15 years long and provide yearly rental rates based on the 3 predominant soil types in the area to be enrolled. Currently we are waiting for CRP to be reopened from the recently passed Farm Bill 02.04.2014. Feel free to stop into the office if you are interested in enrolling for the program.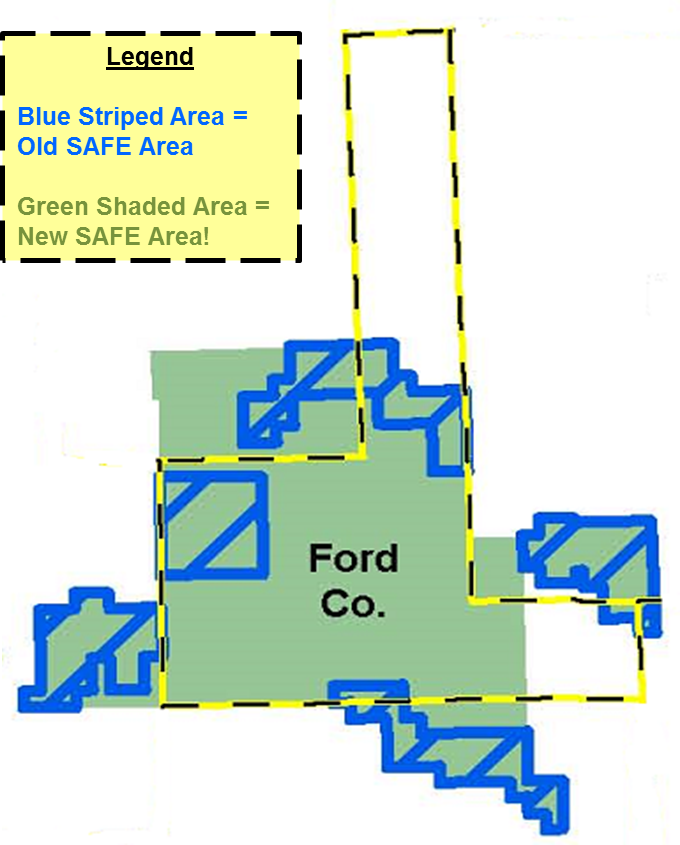 SAFE Area 2014
+
Ford County and the surrounding counties are a major focus area of the SAFE program. Ford County is the epicenter of the historic pheasant range and habitat in Illinois.
SAFE stands for "State Acres for Wildlife Enhancement". As of May 2013, the NRCS, FSA, IDNR, and Pheasants Forever worked together to expand and approve new boundaries for the CRP SAFE Area program.
The SAFE program is great for landowners focusing on wildlife habitat. It is also a great program for "hard-to-farm" areas. It's perfect for small triangles in corners of fields, squaring up odd-shaped fields, areas where ponding frequently occurs, and areas that are hard to get big farm equipment into. Landowners can enroll anywhere from 0.5 acres to 100+ acres. Cost-share, annual soil rental rate payments, sign-up bonuses, and mid-contract management payments are all included in this practice.
As of June 2015, the FSA increased the CRP Soil Rental Rates to more adequately reflect current land values. The new soil rental rates for Ford County range from $115 to $261 per acre depending on soil type. The new weighted average for the county is $213 per acre and remember some practices, such as filter strips, give you a 20% bonus on your rental rate.
If you are interested in enrolling any of your property into a CRP practice, please contact the Ford County NRCS, FSA, SWCD, or your local Pheasants Forever Farm Bill Biologist.
SAFE Areas – Designated Areas in Illinois for Grassland Bird Management (CP 38)
• Establish Native Wildlife Habitat with no Set Size or Shape Requirements
• Variety of Cover types allowed (grasslands, wetlands, and trees/shrubs)
Habitat Buffers for Upland Birds – Field Borders (CP 33)
• Establish Native Grasses and Forbs that Average 30-120 ft. Around the Edges of Ag Fields With a Minimum Acreage Requirement of 5 Acres
Pollinator Habitat (CP 42)
• Native Grassland Mixes Made Up of no More than 25% Grass Seed (at Least 75% Wildflower Seed)
• 0.5 Acre Minimum Size, no Maximum. Effective for Filling in Oddly Shaped Acres.
Field Windbreaks (CP 5A)
• Combined Rows of Hardwood Trees, Evergreen Trees and Shrubs for Protecting Fields from Wind Effects.
Filter Strips (CP 21)
• Establish Native Grasses along Streams and Rivers to Filter Water and Reduce Erosion along IL Waterways
Riparian Buffers (CP 22)
• Establish a Mixture of Trees, Shrubs, and Native Grasses along Streams and Rivers to Filter Water and Reduce Erosion along IL Waterways
Shallow Water Areas For Wildlife (CP 9)
• Establish Native Grasses and Shallow Wetlands on Low Areas in Crop Fields that Frequently Flood Out
Wetland Restoration (CP 23)
• Restore Native Grasses and Water to areas that were Historically Wetland Habitat